An Insurance Agent that understands the Poultry Industry
Serving clients in Buckingham County, Prince Edward County, and other counties throughout Virginia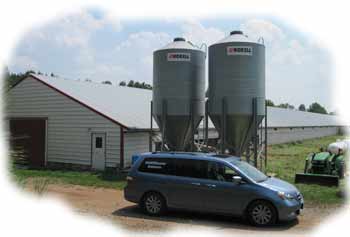 David Wise grew up on his family's fourth-generation broiler chicken farm, located in Buckingham Country, Virginia. He graduated from Virginia Tech with a degree in poultry science in 1989. After graduation, he worked in the poultry industry for over five years as a serviceman with turkeys and chickens. He became an insurance agent in 1994. 
David has assisted poultry growers and related agribusinesses with
their unique insurance needs for over 16 years.  He earned his Agribusiness and Farm Insurance Specialist Designation in 2007, which is North America's insurance designation for Farm and Agricultural Risks. 
David Wise can tailor an insurance package to meet your specific needs. Please contact him and he will be glad to come out and meet you at your farm, at your convenience. 
DavidWise.com Insurance, LLC's policies are backed by the leading insurer of agribusiness, horticulture and contractors in the east.
"David and I were reconnected after having first met almost 25 years ago at VA Tech. Having considerable experience in the poultry industry and now offering very competitive and comprehensive coverage for agribusiness operations, commercial properties, livestock, worker's compensation, fleet, and general liability we had a lot to get reacquainted about. Our company's decision to place trust not only with the products he represents, but more importantly in David, gives our day to day business activities much greater comfort. David is highly attentive to customer's needs and works quickly to find solutions and answers. We are looking forward to an excellent long term relationship." January 5, 2011
Top qualities: Personable, On Time, High Integrity
Neal Martin,
Hired David as an Insurance Agent in 2010
The information contained on this website is designed to provide a general overview with regard to the subject matter covered and is not state specific. The authors, publisher and host are not providing legal, accounting or specific advice to your situation.  This website site and all information contained herein is a solicitation to conduct business in the state of Virginia.